2016 Lexus CT 200h Walk Around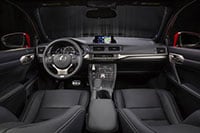 When introduced, the CT 200h came across as a slab-sided five-door hatchback with a handsome, sporty appearance. Front-end freshening for 2014 added a spindle-style grille, but changed nothing in the CT's straightforward profile. All the styling elements seem to work together effectively.
With its low roof and thick pillars, the CT 200h blends two concepts: the company's flowing L-finesse design language, and a saucy, semi-aggressive hatchback shape. Wrapping into the rear pillars, the back window has a particularly curious appearance. A long spoiler pushes the roofline above the abbreviated tailgate, while thinly tapered taillights convey a taut impression.
Interior
Attractive and functional, the CT 200h cabin is largely luxurious as well. Just a glance at the wealth of knobs, switches, and display screens demonstrates that the CT is a feature-packed luxury car, despite its compact dimensions.
Front seats are thick, supportive and spacious, helped by generous headroom. Because the CT is lower and shorter than a Toyota Prius, the driver gets a low seating position, though that can enhance the sporty feel. Legs wind up extended farther than they would be in an upright-oriented vehicle.
Back seats offer acceptable, but hardly expansive, space. Taller riders may struggle for comfort. Cargo space is limited by the high load floor, which covers the battery pack. Stuff in one too many grocery bags and the rearward view through the slit-like tailgate window starts to shrink.
Only a few bits of hard plastic detract from the rich materials quality on the wide console and well-laid-out dashboard. Lexus provides ample storage for miscellaneous items, but back-seat occupants lack cupholders.