2016 Lexus CT 200h Introduction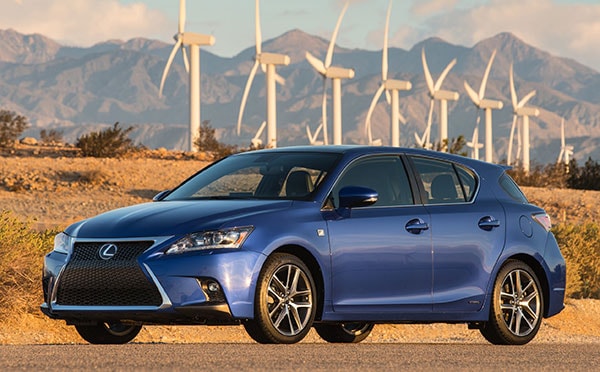 The Lexus CT 200h compact five-door hatchback hybrid has changed little since its 2011 debut, and it carried into the 2016 model year with minor feature updates, a newly optional moonroof, and a new chrome grille surround.
The Lexus CT 200h is a rarity in today's market: a small luxury hybrid hatchback. It's the smallest, lowest-priced model in the Lexus lineup, blending impressive gas mileage with a sporty character.
Fun to drive in Sport mode, the CT 200h is a likable and practical hatchback that handles decently. In real-world driving, 40-mpg fuel economy is easily achievable.
Sitting low on 17-inch wheels, the CT 200h has an assertive profile, with appropriate chrome trim and a long, flat roof that ends in a spoiler. Next to the CT 200h, many similar-size economy cars look drab and dull.
A 1.8-liter four-cylinder gasoline engine, rated at 98 horsepower, works with Toyota's Hybrid Synergy Drive system. Powertrain output totals 134 horsepower. Essentially, it's a Prius powertrain, but in a more refined model.
Dual motor-generators can propel the car without the gas engine at low speeds. They also add torque to supplement gas-engine output. Finally, they serve as generators to recharge the nickel-metal-hydride battery pack, located under the rear load deck. Drive Mode selection offers four choices: Normal, Eco, EV, and Sport.
Gas mileage is where the CT 200h shines brightest. No other luxury compact comes anywhere close to its EPA estimate of 42 mpg Combined city and highway driving.
Stylish two-tone interior trim, bolder than in other Lexus models, may be accented by bamboo, black wood, or ash burl. In addition to the base model, an F Sport edition features special suspension tuning, as well as a variety of appearance extras.
Standard equipment is bountiful, and the CT 200h has an extensive option list, including active-safety features. Options include a moonroof, rain-sensing wipers, LED headlights, heated front seats, parking assist, in-mirror rearview camera, navigation, pre-collision warning, and radar cruise control. Many options may be purchased in packages.
The CT 200h gets top scores from the Insurance Institute for Highway Safety, which named it a Top Safety Pick Plus.