2016 Lexus ES Driving Impressions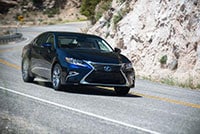 The demeanor is relaxed but the performance is athletic, or at least can be. The ride is firm without tipping the comfort south. It's not quite nimble, but it tracks true and the steering is quick enough. However the brake pedal in the ES 350 feels spongy.
In the ES 300h, which uses regenerative braking, the brake pedal isn't smooth. The hybrid drivetrain is otherwise quite smooth around town, and it's generally quite quick, but on curvy roads with hills, or when merging on the freeway with your foot down, the engine feels stressed.
The 3.5-liter V6 with its 268 horsepower makes the ES 350 quicker than the ES 300h hybrid, but a bigger difference might be its smoothness. The ES 350's V6 revs through the transmission's six gears seamlessly; in fact it happens so quietly and effortlessly that you find yourself going fast before you're aware of it. It's an exceptionally responsive and refined powertrain.