2016 Lexus ES Walk Around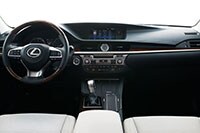 The larger grille on 2016 Lexus ES models adds chrome trim in an attempt to give it more visual excitement. The pinched waist of its sharp hourglass is on the bumper, so it flows outward (upward and downward) into the hood and low air dam. The new front fascia matches the aggression. The LED headlamps aren't just flashy, they're beautiful.
The profile is contemporary with sculpted sheetmetal that gives it a formal look, in a good way.
Interior
The dash is shelf-like, but the Lexus ES gets away with it by staying true to horizontal lines, with a curving instrument panel and corners that rise up and outward. It gives off a feeling of space, even with the available seven-inch navigation screen prominently up there. Too much metallic trim here for our taste.
It feels refined inside the cabin, especially when it's moving because it's so quiet, no wind or road noise.
That sense of space becomes reality in the back seat. The ES has a long wheelbase for its mid-size, which translates to more legroom in the rear. Three adults actually can fit back there. When cargo capacity is needed, the rear seatback flops and opens to the trunk. But not the hybrid, which has a smaller trunk to make room for batteries, with no pass-through to the cabin, either.
Beyond the standard equipment, available interior luxuries include Mark Levinson audio, upgraded leather and trim, and Lexus Enform with all its apps. But the remote touch control, mouse-like with a pointer on the screen, is awkward. Two buttons have been added for 2016 in an attempt to make it simpler.