2016 Lexus GS Driving Impressions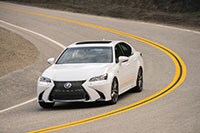 The new GS 200t powertrain has that unfortunate pause when you floor it, which we've felt in the NX 200t. Even Sport Plus mode doesn't make it go away. The new 8-speed transmission can be fussy going uphill, too quick to upshift and downshift; we found ourselves shifting with the paddles just to get it to stop shifting too much in the normal mode.
It's better in the GS 350 with its 306-horsepower V6. It's a fully modern engine, with direct injection, four valves per cylinder, four cams, and variable valve timing. It's got excellent torque above 3000 rpm, and gains a definite sporty spirit in Sport mode, neatly working that 8-speed transmission that we just complained about in the 200t. It's all in the programming. The all-wheel drive GS with its 6-speed transmission is a bit less quick.
The rear-wheel-drive GS 450h hybrid uses an Atkinson-cycle version of the V6, mated to a 147-kilowatt motor and 30-kilowatt nickel-metal-hydride battery pack, for a total of 338 horsepower. It's fast, comfortable and quiet, while feeling more detached, but hybrids always do. There's an F Sport package that brings back some attachment.
The GS has electric power steering that's nimble and communicative, and a lightweight multi-link suspension front and rear. With its stiff chassis, it handles well on standard 17-inch, 50-series tires, while the ride is more composed than most of its rivals. An adaptive suspension and active steering are available, and they do set a new benchmark on the GS F, but we don't think the GS needs it. The GS actually feels within its element on the track.
The GS F adds 19-inch wheels and tires; stiffer springs, roll bars and bushings; adaptive shocks; variable-ratio steering; and bigger front brakes. Active rear steering is available; it turns the rear wheels a tiny bit, in the opposite direction of the fronts, to pivot the car, adding stability in quick moves. The result is crisp handling, with quick steering and a tight ride, but low tolerance for bumps.
The 5.0-liter V8 in the GS F revs to 7300 rpm with a throaty howl, piped into the cabin and heard like background music through two speakers, one front and rear. You'll hear it for 4.5 seconds from zero to sixty. That's not as much power or speed as the Cadillac CTS-V, BMW M5, or E63 AMG offer, but those engines have superchargers or turbochargers, the Lexus V8 is normally aspirated, and sweetly so.
At 4034 pounds, the GS F weighs 111 pounds less than the lightweight Cadillac, and 356 pounds less than the fat German M5. It drives small (which is good). Its dynamic personality is small, thanks also to torque-vectoring that makes the car respond better in turns. The chassis is stiffened with four underbody braces, the suspension is double-wishbone front and multi-link rear. Two front arms and two rear links are aluminum, reducing unsprung weight. Stiffer shocks, springs and bushings, geometry at both ends changed. Brembo brakes, 15-inch front and 13.5-inch rear, are designed to resist fade.
The ride is reasonable, and it's a fairly comfortable cruiser. The 8-speed automatic transmission is crisp, smooth and responsive, although not as sharp as a good dual-clutch like the BMW. In Normal mode, the steering is light and delightfully quick. If you push it past the grip of the sticky Michelin Pilot Super Sport tires, the stability control will save you. If you switch to Sport S or Sport S Plus mode, and put the differential in Slalom or Track mode, the GS F is happy to grip and rotate for you.
The GS 450h hybrid is another story. It has a semi-active suspension and a CVT continuously variable transmission, with eight programmed steps so it feels like an automatic. The modes of Eco, Sport, Sport Plus, and EV each further re-program the CVT and light-touch electric power steering. The brakes have regenerative rigidity with not much braking sensation. If saving the planet is more important to you than driving fun, it's the Lexus to buy.