2016 Lexus GS Introduction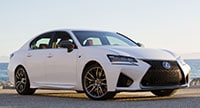 The 2016 Lexus GS F performance sedan and the 2016 Lexus GS 200t are new models that join the GS 350 and GS 450h. The Lexus GS models are rear-wheel-drive sports sedans, unlike the front-wheel-drive Lexus ES family sedans, that compete with the Mercedes-Benz E-Class, BMW 5 Series, Audi A6, and Infiniti Q70.
The current-generation Lexus GS was introduced as a 2013 model, and it is available with a range of engines that change its character, from V6 to V8 to hybrid.
The 2016 Lexus GS 200t comes with a turbocharged 2.0-liter four-cylinder engine that makes 241 horsepower and 258 pound-feet of torque and uses an 8-speed automatic transmission. Lexus says the GS 200t can accelerate from zero to 60 in 7.2 seconds, which isn't particularly quick. However, we found that there's a delay when you step on the gas pedal, as apparently it needs a moment for the transmission and turbocharger to decide what to do. Fortunately the 8-speed has paddle shifters, so if you flick a lower gear, that snaps the transmission out of it.
The Lexus GS 350 uses 3.5-liter V6 that makes 306 horsepower with the paddle-shifting 8-speed automatic, and feels more like a sports sedan. It can hit 60 mph in a quick 5.7 seconds, and is EPA-rated at 23 miles per gallon Combined city and highway. The GS 350 is available with all-wheel drive, which uses an older 6-speed automatic.
The Lexus GS 450h hybrid is quicker and more fuel-efficient than either the GS 200t or GS 350. With 286 horsepower and 257 pound-feet of torque, the GS 450h accelerates to 60 in 5.5 seconds, and is rated 31 mpg Combined. It doesn't feel sporty, the way the GS F does. Its main competitor might be the Acura RLX Sport Hybrid SH-AWD. Others include the Mercedes E-Class Bluetec or BMW 528d, diesels that get better highway mileage than the 450h's 34 mpg Highway.
Finally there is the hot one, the GS F that competes with the BMW M5, Mercedes-Benz E63 AMG, Cadillac CTS-V, and Audi RS 7. It uses a 467-horsepower 5.0-liter V8 with 389 pound-feet of torque. With both direct injection and port injection, running on both the Otto and Atkinson cycles, it gets an EPA-rated 19 mpg Combined, pretty darn good for 467 horsepower.