2016 Lexus GS Walk Around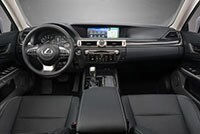 We think the GS is the best looking Lexus sedan. It asserts its identity, with its spindle grille framed by a boomerang shape. The sides are square and voluptuous, undulating rearward, and the roofline is calculated to match minimalist interior.
It's upright, with a greenhouse that recalls the BMW 7 Series from 2002 to 2010. The details in front are challenging and bristle with excitement.
The styling of the GS F models is more aggressive, mostly for cooling and aerodynamics. The front fenders are wider, with outlets that vent air from under the hood. The spindle grille is bolder, flanked by air intakes for the transmission and oil coolers. The LED headlamps are L-shaped, with LED turn signals, daytime running lights, and taillamps. Big rocker panels lower the sides, while a carbon-fiber spoiler and quadruple exhaust outlets coming from a diffuser make the car look mean as it races away.
Interior
The Lexus GS feels spartan inside, especially around the dash with its horizontal lines and cool ambient lighting at the perimeter. Still, it's elegant, warm and inviting, with excellent fit and finish. The materials are a step better than the German luxury sedans, with padded leather panels in rich shades and wood trim bringing back the softness. In the GS F there's metallic plastic that looks better than that sounds.
The GS goes against the Lexus luxury grain by piping engine and exhaust sounds into the cabin.
A massive 12.3-inch high-resolution display draws your eyes away from big gauges that are crisp and clear. It's like a live performance versus a CD library. Quality plastic trims the dash and console, with metallic highlights around an analog clock that's a Lexus trademark but hard to read. The leather seams are carefully stitched, so many seams it feels like overkill.
Remote Touch uses a haptic joystick on the console to control functions on the screen. We noticed that it fits poorly, with a gap at the side. For 2016 there's a new thumb button for Enter, that improves the function, but the necessary dexterity might be a trick for some.
The 10-way power seats are comfortable and supportive, while the available 18-way power seats have heating and ventilation. The GS F seats have more bolstering. The rear has good head room, but knee room is lacking; forget about the center rear for anyone but small children. But at least the big rear doors make it easy for adults to climb in and out. Heated seats and climate control in the rear are available.
The trunk is shallow for a midsize car, but the opening is wide and there's a pass-through for skis and other long items.
GS F gets aluminum pedals, carbon fiber trim, sport seats exceptional for their comfort and support (in perforated leather along with the steering wheel), and Alcantara leather bits round the cabin.