2016 Lexus GX460 Driving Impressions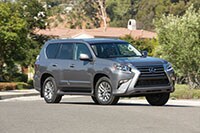 Off-road capability impedes the on-road dynamic character of the GX. Thus, this SUV isn't as nimble on the highway as might be expected. Some drivers will be satisfied with the trade-off for its considerable off-road talents.
Ride quality is good, with or without adaptive suspension. Entry-level models, however, don't seem to cope as well with choppy roads.
A GX feels surprisingly comfortable on twisty roads at a moderate pace. Steering lacks road feel, responds slowly, and suffers artificial off-center weighting. Thus, you can't forget that the GX is a more traditional SUV than nimble crossovers. Spongy brake-pedal feel is especially unappealing.
Accelerating to 60 mph in 7.8 seconds is relatively sluggish for a V8. The 6-speed automatic transmission shifts promptly and smoothly, yielding no flat spots in sending power to all four wheels.
Five-setting Crawl Control manages momentum over harshest terrain, at speeds between 1.0 and 3.7 mph. A standard Kinetic Dynamic Suspension System helps keep the GX 460 level when cornering, as well as and in tricky off-road situations. At times when on-road, however, the system creates a jittery sensation.