2016 Lexus GX460 Introduction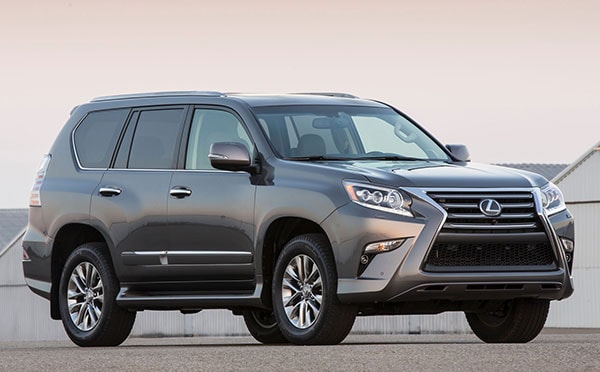 Finding takers for the GX 460 isn't so easy anymore. Even with lower gas prices, Americans have been leaning away from rugged off-road-ready SUVs and toward crossovers with better fuel economy. Now entering the seventh year of its second generation, the GX hasn't undergone many changes since 2010.
The truck-based Lexus GX offers a luxurious cabin for family journeys, along with full-fledged four-wheel-drive capabilities.
Slotted below the full-size LX 570, the GX 460 is closely related to the Toyota 4Runner. Rather than the 4Runner's V6 engine, though, the Lexus GX 460 gets a more powerful V8. Overall, the GX delivers on Lexus's long-lived promise of plush refinement, modern technology, and elegant design. None of those traits are typical of truck-based SUVs.
In addition to tough body-on-frame construction, the GX 460 gets low-range gearing in its four-wheel-drive system. (No two-wheel-drive version is offered.) Electronic assists are ready to help maintain control under a variety of conditions, in sundry terrains.
The four-wheel drive system includes a Torsen center differential, distributing 60 percent of engine power to rear wheels in normal driving. A center differential lock helps provide traction in sand, mud, or snow.
Comfortable inside and pleasurable on the road, the GX 460 promises off-road prowess that few real-world buyers actually need, but many would like to have, just in case. Another selling point is strong towing ability.
Anyone who has driven a true separate-body, truck-based SUV is likely to feel right at home, if more comfortably cocooned, in a cabin that might be dubbed delicate. Front seats are comfortable and supportive, and the driver should find a satisfying position without trouble.
Beneath the tall hood, a 4.6-liter V8 produces 301 horsepower, mating with a 6-speed automatic transmission. Not everything is perfect, led by a flaw that's no surprise: poor fuel economy. Specifically, the GX 460 is EPA-rated at 15/20 mpg City/Highway.
We thought the steering felt too light and the brake pedal felt soft.
In terms of cargo-carrying convenience, the GX 460 has no rise-up liftgate. Instead, there's a side-opening hatch, which can be helpful for loading. Trouble is, it's hinged at the right, which can interfere with loading and unloading from the curb side.
An available navigation system comes with Enform services, including Destination Assist. For 2016, new Enform Remote allows owners to view and control vehicle details via a smartphone app.