2016 Lexus IS Introduction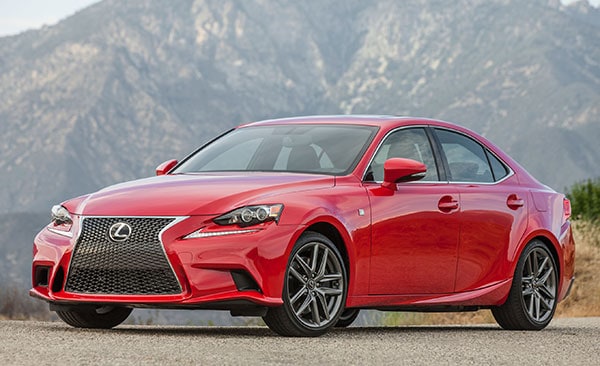 The 2016 Lexus IS lineup brings two new models: the IS 200t and IS 300. The IS 200t uses a turbocharged 2.0-liter four cylinder, while the IS 300 is all-wheel drive only, using detuned 3.5-liter V6. They join the 2016 Lexus IS 350, using a more powerful version of that V6 with rear-wheel drive or all-wheel drive. This third-generation Lexus IS was introduced for 2014.
An F Sport package is available for any IS, a performance enhancement that changes the character of the car, so the IS is basically six different cars.
The turbo-four, rear-wheel-drive Lexus IS 200t offers 241 horsepower and 258 pound-feet of torque, with its paddle-shifting 8-speed transmission. It's no rocket but it's quick enough, 0 to 60 in 6.9 seconds. But the powertrain has a quirk we've seen and commented on in other Lexuses, a lag time between your foot and the engine's acceleration, a long pause in the programming before the transmission and turbocharger wake up.
The V6 in the all-wheel-drive Lexus IS 300 makes 255 horsepower and 236 pound-feet of torque, mated to a 6-speed automatic. The IS 350 wrings 306 hp and 277 lb-ft of torque out of that 3.5-liter V6. The Lexus IS has good electric power steering, but the F Sport models upgrade to variable-rate steering, among other changes that enhance the dynamics and spirit of the car.
Naturally, the Lexus IS 200t gets the best mileage, EPA rated 22/33/26 mpg City/Highway/Combined. The Lexus IS 300 is rated 19/26/21 mpg, and Lexus IS 350 19/28/22 mpg, with 1 mpg less for all-wheel drive.