2016 Lexus LS Driving Impressions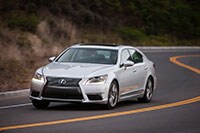 Lexus LS models glide down the road on a magic carpet.
The standard 4.6-liter V8 is smooth and easily propels the big, rear-wheel-drive sedan with its 386 hp. The automatic transmission is barely felt when it changes gears.
The LS 460 is EPA rated 16/24 mpg City/Highway, or 19 mpg Combined. The LS 460 AWD gets 16/23 mpg, or 18 mpg Combined. The LS 600h L is rated 19/23 mpg City/Highway, or 20 mpg Combined.
Although it generates higher EPA numbers, the LS 600h L isn't about efficiency per se. It's designed to provide the output and acceleration performance of a turbo V8 or V12 without the usual mileage penalty.
The Lexus LS 460 F Sport comes with a sport-tuned air suspension with additional driving modes, firmer steering, performance brakes, larger wheels with summer performance tires, and sportier trim throughout. The F Sport package makes the LS more assertive and responsive in spirited driving, though it doesn't transform it into a sports sedan. This Lexus is meant to thrill in other ways, like pleasing the senses.