2016 Lexus LX Introduction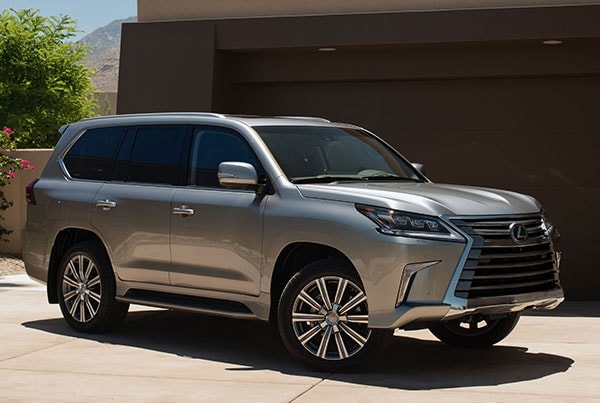 The 2016 Lexus LX 570 gets updated styling, a freshened interior, a new transmission and a boost to its infotainment and safety systems.
The big rig from Toyota's luxury division comes ready and willing to pull trailers, lug cargo or transport eight people. A receiver hitch, a heavy-duty chassis, and seats that fold to reveal big cargo space hand the utility end of the equation. Yet its cabin comes swathed in leather and artisan wood trim and has an app that makes dinner reservations.
The LX 570 belongs to a shrinking class of truck-based SUVs with genuine off-road talent and enough muscle to pull an Airstream trailer. These old-schoolers can still be found at the very top of the market, where size and capability remain just as important as luxury. The LX 570 delivers in both respects.
This third-generation LX 570 debuted as a 2008 model. That makes it a dated product and it has felt like one for some time, but updates for 2016 seek to address that.
The 2016 Lexus LX 570 features a redesigned exterior highlighted by the one-piece Lexus spindle grille; a new 8-speed automatic transmission; more safety features; upgraded multimedia infotainment with larger 12.3-inch screen and remote touch interface; panoramic camera; upgraded climate system; larger screens for the rear-seat entertainment system, the latest version of Lexus Enform Service Connect, and the list goes on.
The LX 570 shares off-road DNA with the Toyota Land Cruiser. It comes with full-time four-wheel drive with hill start assist and crawl control. There's also a terrain selector to assure maximum traction whether you're climbing rocks or negotiating a blizzard.
The Lexus LX 570's closest competitor is the more capable, more up to date Range Rover. There's also the Mercedes-Benz G-Glass, a dated product. For buyers who intend to stay on the pavement there is the Cadillac Escalade and Infiniti QX80.
LX 570 comes with a 5.7-liter V8 that lays down 383 horsepower and 403 pound-feet of torque. New for 2016 is an 8-speed automatic transmission and selectable driving modes. A height-adjustable adaptive suspension and 20-inch wheels complete the mechanical setup. The LX 570 comes ready to tow up to 7,000 pounds. As luxurious as it is, the main draw here is brute capability.
Although the LX 570 doesn't have the cleverest interior packaging, it gives up nothing in terms of luxury and convenience. Beyond the expected power assists and leather and wood trim, you'll find adaptive cruise control, a surround-view camera system, slim key card access, and a multitude of sensors to assist with parking.
New for 2016, the Climate Concierge system monitors the temperature of all four climate zones and makes individual adjustments to fan speed and the heated seats and steering wheel. The navigation system features a massive 12.3-inch high-solution screen, which doubles a video display for the built-in media player.
When a front impact is imminent, the collision mitigation system automatically tightens seatbelts and primes the brakes for maximum response, applying them if necessary. Pedestrian detection has been added to the system for 2016. You also get the protection of Lexus Safety Connect, which provides automatic cash notification, live emergency assistance, and stolen vehicle recovery.