2016 Lexus RC Driving Impressions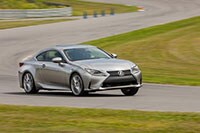 The 2.0-liter turbocharged engine in the RC 200t engine also comes in the IS and GS sedans, also coupled to an 8-speed automatic transmission. It makes 241 horsepower and 258 pound-feet of torque, which would be great if it were there for you when you floor it, but there is that lag. If you buy an F Sport and keep it in Sport Plus mode, you can get around it.
The new RC 300 comes only with all-wheel drive, biased 30/70 to the rear wheels, and connected to an older 6-speed automatic transmission. Its detuned V6 makes 255 horsepower and 236 pound-feet of torque. That's not as much as the RC 350, but if all-weather grip is your priority, it's the RC you want, and it will likely be fast enough. If not, the RC 350 is available in all-wheel drive.
The RC 350 is unchanged for 2016, with its 306 horsepower and 277 pound-feet of torque propelling it to 60 mph in 5.8 seconds. Like other V6 engines we know, namely Nissan, Ford, and Mercedes, it has a bit of a coarse growl. the former gets to 60 mph in 5.8 seconds, the latter in 6.0 seconds. It will go 143 mph with rear-wheel drive and 130 mph with all-wheel drive, electronically limited because of the tires.
The paddle-shifting 8-speed transmission has Normal, Sport, and Manual modes, and blips the throttle for downshifts. There are also Normal, Sport, and Eco modes for the driver to steering assist and throttle response.
The F Sport package adds adaptive dampers, firmer suspension (but still comfortable), 19-inch wheels, and Sport Plus mode. Available for rear-wheel-drive RC 350s is variable-ratio steering and rear-wheel steering in Sport Plus mode, which quickens the car's reaction. Imagine a cow falling out of a livestock truck on the freeway in front of you, or a six-foot kangaroo jumping across the two-lane highway at night in Tasmania; rear-wheel steering will help you swerve with stability, to avoid the smash to your spindle grille.