2016 Lexus RC Walk Around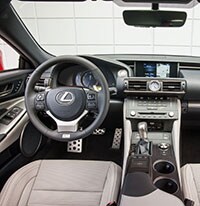 The graceful Lexus RC coupe styling borrows from other Lexus models. We see some Lexus GS in the nose, some of the outgoing IS C in its profile, and some IS in its tail. And if you squint it might look like a Scion FR-S. But its surfacing is more subtle, curvaceous from all points of view, with an attractive but thick roofline and sweet kick where the shoulder touches the rear fenders.
The spindle grille looks sinister compared to other Lexus models, as it should given its more aggressive thoughts. Especially on the F Sport models and RC F, which flaunt black mesh instead of the standard bars. The RC F features other aggressions, for example finned vents and stacked exhausts at the rear, under a wing that raises at 50 mph or, in track mode, at 80 mph.
Interior
The cabin ventures the horizontal theme of other Lexuses, including some of the same misfires, for example off-center bits and strangely stacked components. The dashboard is divided into operational and display zones, with the top zone holding the gauges and 7.0-inch navigation screen, and a layered center with the touchpad. The center stack lacks elegance as it rides over the curved console, with no trim to separate a line of vents on the passenger side. And the sound system is mounted out of kilter with the console trim. While we're at it we don't like the offset of the LCD screen.
The steering wheel is slightly elliptical, while the high-backed, low-slung seats are wide and supple, with high-density foam under leather that's elaborately stitched. Big bolsters and shoulder wings. Padded center console. Two occupants are good, but the back seats are merely a beautifully upholstered shelf, that can be folded to access the trunk, except not in the RC F.
Trunk volume is slim, 10.4 cubic feet, just big enough for two golf bags.