2016 Lincoln MKC Driving Impressions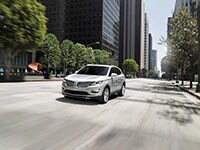 The MKC offers a choice of two engines. The 2.0-liter engine has enough power for almost everyone; if you don't need all-wheel drive, that's the engine you'll get.
The 2.3-liter engine is a bit quicker and comes with all-wheel drive. The twin-scroll turbocharger provides immediate throttle response, and the engine has plenty of power for passing, but there's a bigger difference in fuel mileage (two to three miles per gallon) than there is in acceleration, between the 2.3- and 2.0-liter engines.
Both engines use the same 6-speed automatic transmission. The torque converter is stronger in the 2.3 because it has more torque. Downshifts can lag, even with the paddles. And even with a balance shaft to smooth the engine, the 2.3-liter can sound coarse under hard acceleration.
Lincoln Drive Control sets modes for the response of the steering, throttle, transmission and suspension. But not easily. The bewildering choices (two for steering, two for powertrain, three for suspension) are made on the button shifter on the instrument panel. You have to use a menu system via a toggle on the steering wheel, and go three levels down to program performance. You can program two modes (Drive and Sport) and they stay in memory.
Both MKC models steer extremely well, but we thought the 2.3-liter version with all-wheel drive felt more coordinated in the curves.
We give the steering, handling, brakes and ride quality high marks. The MKC is long on poise and response. The brakes deliver a solid pedal feel and the tires a reassuring bite. We found the steering flawless when tuned sporty. The most aggressive Sport settings put this Lincoln in hot-rod territory; it was firm and grippy through some demanding esses. The electronic continuous damping suspension, whose behavior can be set by the mode buttons, adjusts to the road in milliseconds. The MKC rides as well as the BMW X3 or Audi Q5.