2016 Lincoln MKC Introduction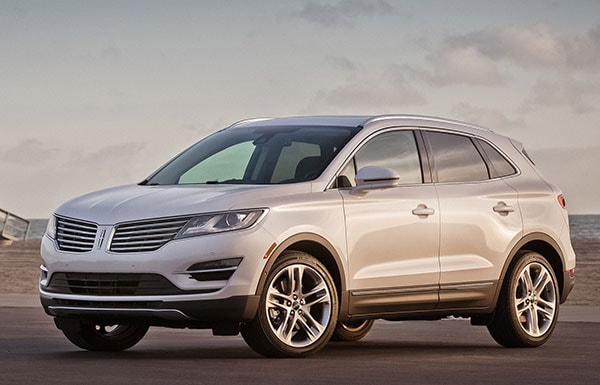 The Lincoln MKC is an SUV heavy on design and technology, without resorting to the quirky looks of the MKZ sedan. It's considered a compact luxury crossover, and is built on the platform of the Ford Escape.
The MKC performs with verve, and pleases us with its sophisticated cabin and overall refinement, although the back seat doesn't offer much.
The Lincoln MKC competes on generally equal terms with the Audi Q5, Acura RDX, Cadillac SRX, BMW X3, Lexus NX, and Mercedes-Benz GLK, while costing considerably less. The Hyundai Santa Fe and Kia Sorento are not considered luxury but still well equipped and worth considering.
The base engine is Ford's impressive 2.0-liter EcoBoost turbocharged four-cylinder, making 240 horsepower and a strong 270 pound-feet of torque, with front-wheel drive standard and four-wheel drive available.
There is a 2.3-liter version available, straight out of the sporty Mustang, that makes 285 horsepower and 305 pound-feet. Because it comes with all-wheel drive it's not that much quicker than the front-wheel-drive 2.0-liter; it accelerates from zero to sixty in about seven seconds. Both engines use a 6-speed automatic transmission. There's no V6 available, but you'll never miss it.
Changes for 2016 are all in the infotainment system. It's been a problematic area for Ford. The new Sync 3 uses a capacitive touch screen replacing the MyLincoln Touch resistive touch screen; the voice command is improved and there are other upgrades. However, it's not yet clear whether Sync 3 fully replaces MyLincoln Touch. There's also a new parking system that parallel parks or unparks without the driver having to touch the steering wheel.
Fuel mileage for the MKC with front-wheel drive is an EPA-estimated 20/29 mpg City/Highway, while the all-wheel-drive 2.3-liter is rated 18/26 mpg City/Highway. Those numbers aren't much if any better than the competition, which also offers high-mileage hybrids and diesels.