2016 Lincoln MKT Introduction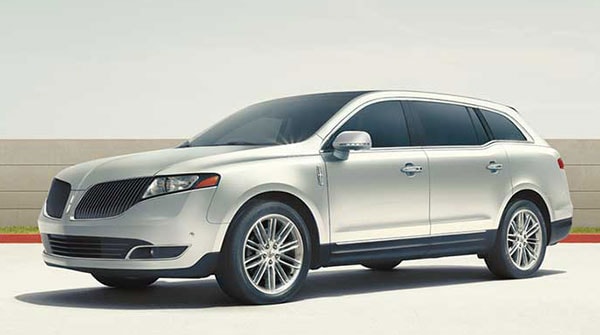 The Lincoln MKT does not look like the crossover SUVs that have been rolling out of the design studios of every major and many minor automaker. The Lincoln MKT is a large crossover wagon with a polarizing design. Its upswept front end and its bulbous rear draws widely divergent opinions about its visual presence.
Whether that's good or bad depends upon the point of view. Sales success for a design some love and some hate is often greater than that for a bland design that neither pleases nor offends anyone.
Introduced for the 2010 model year, the Lincoln MKT hails from a different era in the history of Ford Motor Company's luxury brand. The MKT was a trendsetter when it first appeared, and even today the design looks audaciously daring. Though not a look that appeals to everyone's taste, it is one that can easily be recognized a block away. Developing such a vehicle helped demonstrate the value of a big crossover wagon at a time when most were midsize or smaller. It also showed that the Lincoln name shouldn't be taken for granted or defined too rigorously.
Updating for 2013 slimmed the bright vertical-bar grille and headlight configuration. Sales have remained sluggish, however, suggesting that not every shopper for a model in this league has taken a close look. There are no significant changes for the 2016 model year.
While the exterior is polarizing, far less arguable is this three-row crossover's vast interior space, as well as its comfortable accommodations for a large group.
Brawny powertrains round out the picture, led by a particularly strong twin-turbocharged 3.5-liter V6 that whips up 365 horsepower. The standard engine is a naturally aspirated 3.7-liter V6.
All-wheel drive is available, front-wheel drive is standard.
Buyers can choose either a six-passenger MKT with bucket seats in the first two rows and a two-seat bench at the rear, or a seven-passenger version with a middle-row bench. Seats in the front two rows are uncommonly supportive, and occupants get plenty of space all around. Not unlike the seats in Volvo vehicles, those in the MKT blend basic firmness with almost pillow-like comfort, ideal for a long day's drive without minimal stress.
Access to the third row isn't as pleasing.
A new Sync 3 infotainment interface, which is significantly easier to learn and use replaces the previous MyLincoln Touch system.