2016 Lincoln MKT Walk Around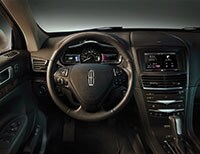 Even though its design is so distinctive, and its underpinnings so contemporary, a few hints of Lincoln's more glorious years can be discerned. That would be the Sixties, when Continental convertible sedans held court. Appearances aside, the 2016 Lincoln MKT has a foundation that's kin, surprisingly, to the defiantly boxy Ford Flex.
Observers who look with disfavor upon the MKT seem to be especially bothered by its tail, which definitely has a heavy look. It is reminiscent of Lincoln Continentals from the Sixties. Featuring a slim ribbon of taillights, it can also convey the impression of being somehow not quite finished. A few critics have even suggested that the rear end vaguely resembles a hearse, while the front end, viewed through fuzzy eyes, is reminiscent of the cowcatcher on an old steam locomotive.
Interior
When Lincoln freshened the MKT for 2013, special attention was paid to interior materials. What had been a veritable sea of metallic and matte-metallic surfaces turned into a cabin with a darker theme. That's when the dashboard added the MyLincoln Touch infotainment interface, right in the center. At the same time, real knobs and switches were replaced by capacitive-touch controls for climate and audio settings. Fortunately, Sync 3 has now edged aside the troublesome MyLincoln Touch.
A broad range of adjustments for seat and steering-wheel positions helps provide a satisfying driving position. Second-row occupants enjoy plentiful legroom, while wide-opening doors make it easy to climb aboard. Despite power-folding second-row seats, reaching the third is a battle, especially for larger adults.
Cargo space approximates that of a large sedan. Folding seats down gives access to nearly 76 cubic feet of space, with a cargo floor that's practically flat.