2016 Lincoln MKX Driving Impressions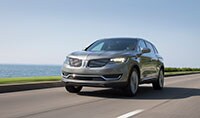 Ride comfort remains a prime MKX virtue, but the 2016 model also feels better connected to the pavement than did the first-generation version. Handling feels more intimate as well. Depending on engine, too, acceleration is swifter than ever.
Picking the new twin-turbocharged 2.7-liter V6 costs more, but enthusiastic drivers might see it as a sensible expense. Also found in Ford F-150 pickups and the Edge crossover, the 2.7-liter makes 335 horsepower under the Lincoln hood, producing more power at lower engine speeds. While real engine sounds are suppressed, Ford injects artificial engine noises into the MKX cabin.
Transmission performance is fine, with quick, clean downshifts. Having only six speeds can mean less hesitation in determining the correct gear. Sport mode lets you paddle-shift downward without lurching or uncertain delay.
Variable dampers filter out road vibration, yielding a smooth ride. Front-wheel-drive MKXs automatically set the damping, but with all-wheel drive, the driver can alter settings via a configuration screen. Optional variable-ratio steering can alter assist, in accord with road speed.
In base trim, the front-drive MKX is EPA-rated at 17/26 mpg City/Highway. Hardly frugal, but not surprising with a 4,600-pound vehicle. All-wheel drive sinks the figures to just 16/23 mpg. The 2.7-liter engine is just a hair better.