2016 Lincoln MKX Walk Around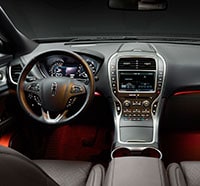 In its latest form, the MKX has evolved into a distinctive vehicle, especially noticeable in Black Label trim, and well removed from its cousin, the Ford Edge. Its styling is less dramatic than that of competitors, instead using a gentler approach to design.
Featuring subtle bodyside sculpting, the MKX looks more like a wagon than an SUV. It does not look like the Edge, except in proportions. Resemblance to the smaller Lincoln MKC is closer. The MKX has a slimmer grille and subtle LED taillamps atop rear fenders. Upper models get delicately curled LED daytime running lights and, at top level, full-LED headlights.
Interior
As part of its latest infotainment interface, Lincoln has brought back actual knobs, buttons, and switches, in a newly unified cabin with a reshaped dashboard. Traditionalists will cheer. (We cheered but no one heard because the windows were up.)
Rather than the usual gearshift lever, the MKX has a group of gray buttons to operate the transmission. What are often termed flying buttresses flank the space beneath the controls in the tall console. Oddly, the start button sits low on the console.
Base-level front seats are well-tailored but short on sculpting, with bottom cushions that are too short. Optional seats give comfort a big boost. Adult comfort is uppermost, with cargo flexibility running second.
Seating positions aren't SUV-lofty, but the driver does sit somewhat high. In fact, taller drivers might not be able to lower the seat sufficiently. The available 22-way power seats are worth considering. Inflatable bladders alter the bolstering three ways. Plenty of new noise-reducing measures help dull drivetrain sounds.
Getting in and out is easy, even in the back seat which is short on support and contouring. Seating three, the back bench is nearly flat. The available panoramic roof steals head space from taller passengers.
Seatbacks fold for greater cargo space, but not fully flat. With back seats down, cargo space tops 73 cubic feet, and the load floor is relatively low.