2016 Lincoln MKZ Driving Impressions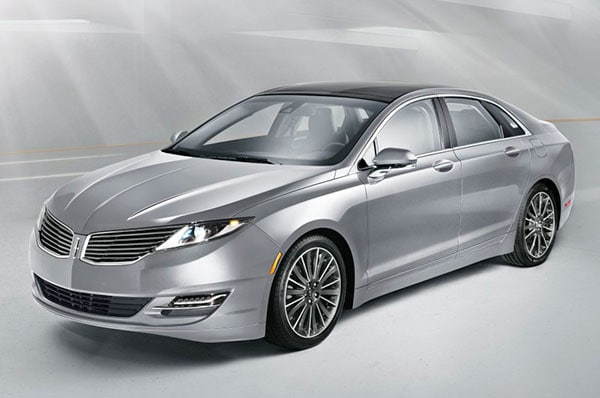 The 240-horsepower EcoBoost four cylinder accelerates to 60 mph in a leisurely 7.5 seconds, dragging the MKZ's weight of nearly two tons; its 270 pound-feet of torque and 6-speed automatic transmission are frequently challenged and fully used. During two-lane passing, throttle response is prompt, with nary a hint of turbo lag, so acceleration decent. However the engine can sound coarse at full throttle, overpowering the noise cancellation system that otherwise keeps noise down.
The paddle-shifting 6-speed automatic transmission is sharp, but in manual mode it's necessary to stay in a gear that keeps the revs up, or else the engine lags and acceleration fades. Some cars in this class have 7- or 8-speed transmissions, which help keep the revs up because with tighter gear spacing there's less of a drop between shifts.
The 300-horsepower V6 accelerates to 60 mph in 6.0 seconds, that's more like it. It's mated to the same transmission, controlled by the pushbuttons. It's smooth and calm, compared to the turbo four.
The Hybrid mates its 2.0-liter four-cylinder engine to lithium-ion batteries and a continuously variable transmission to get its 40 miles per gallon. It only comes in front-wheel drive, and the acceleration is tepid. You can feel more differences, including lighter steering and slower response with the CVT than the automatic; but it's smooth and quiet, and encourages satisfying efficient driving with smart and engaging displays.
Thanks partly to a rigid chassis, the MKZ handles well, competent and sure-footed. It changes direction quickly, especially in Sport mode, with level cornering and good grip for a car this size with all-season tread on the tires. The electric power steering is nicely weighted but a little numb; it's accurate and quick, from lock to lock just 2.7 turns.
The ride is taut, firm but not harsh in the Sport mode, where we kept it most of the time; we found the other modes too soft. In Sport mode you feel only the big bumps.