2016 Lincoln Navigator Driving Impressions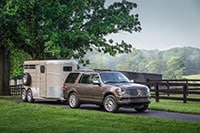 Ford's twin-turbocharged, direct-injected 3.5-liter V6 produces more horsepower and torque than the previous V8, and it does so through a broader rpm range. As a result, despite weights that push past three tons, the Navigator is now surprisingly swift when the pedal is pushed harder.
Competitors may have 8- or 9-speed automatics, but Lincoln's 6-speed shifts gears smoothly and quickly, without delaying for a decision. With four-wheel drive, a properly equipped Navigator can tow up to 9,000 pounds.
Navigators handle better than usual for vehicles of its size and heft, maneuvering through curves with a modest degree of precision and agility. During quick stops, expect considerable body motion and extensive nosedive. Otherwise, the fully independent suspension promises a smooth ride. An option package with adaptive suspension costs plenty, but it's standard with four-wheel drive.
Fuel economy is nothing to shout about, but better than the old V8, estimated at 16/22 mpg City/Highway, or 18 mpg Combined, with rear-wheel drive. Adding four-wheel drive or picking the extended-length Navigator L body drops those ratings to 15/20 mpg City/Highway, or 17 mpg Combined. So, expect to stop often for refills on a long journey.