2016 Lincoln Navigator Walk Around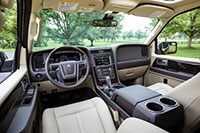 Lincoln has refreshed the Navigator's exterior repeatedly over the years, but it's been on sale for nearly a decade in its current form. Even so, this big Lincoln has its temptations, including a traditional profile and an airy cabin with plenty of glass. Still, it's overdue for a redesign.
Body proportions still look appealing. Less flashy than in the past, with a slimmer and less-distracting grille, a Navigator continues to demonstrate an imposing presence. Headlights are squared off with LED accent lighting. A Navigator is less bold than Cadillac's Escalade, but less tasteful than some rivals, including Ford Expedition.
Interior
Although the Navigator's forthright interior might appear a bit trucklike, softer detail work gives it a more contemporary, even sophisticated, tone. Recent upgrades have rounded out Lincoln's efforts to make the Navigator a true luxury SUV.
Leather wrapping with twin-stitched seams can decorate the twin-binnacle dashboard, while a large touchscreen now overlooks the center stack. Knobs and buttons haven't disappeared completely, though. Within the gauge cluster is a reconfigurable screen.
The Navigator possesses one of the most spacious interiors of any SUV, able to carry as many as eight occupants and plenty of cargo, with room to spare. Navigator L is even roomier.
Seating is great in the front two rows, with wide, supportive, softly cushioned buckets up front, plus abundant space all around. Amply-sized or elderly passengers should feel quite comfortable. The second row holds twin bucket seats.
On the negative side, third-row access isn't so easy, though a power-folding seat helps. Also, the cargo floor is rather high, making loading a challenge for some folks, but the actual cargo space is immense, and a power tailgate does ease access.
Lincoln has worked on sound quality, and the interior is largely quiet. On the highway, the cabin is nearly silent, with only a touch of exhaust sound to be heard.