2016 Mazda CX-3 Introduction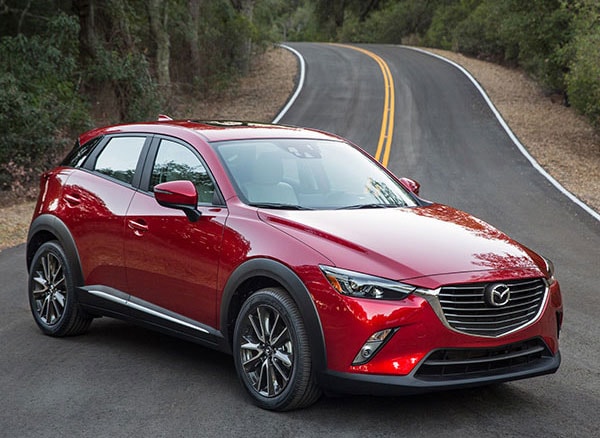 The Mazda CX-3 is an all-new subcompact crossover, a small SUV-like car smaller than the Mazda CX-5 compact crossover. Despite its crossover-type basic profile, the CX-3 manages to appear more racy than some sports cars.
Good looks aren't everything, of course. Capability is important and Mazda's impressive new entrant shines brightly on several fronts. As striking as the new design is, the 2016 Mazda CX-3 also delivers the goods in terms of comfort, performance, and overall ability. Buyers also get an abundant selection of standard equipment, even on the base model.
The CX-3 cabin is attractive and looks similar to that of the Mazda3. The front seats are roomy, the back seats acceptable, and the cargo area is useful for small loads.
The CX-3 is great fun to drive. It maneuvers through tight quarters well and the steering and suspension are tuned to offer responsive handling yet it is stable at higher speeds. Ride quality it good, the suspension filtering roughness out of the roads, and the cabin remains relatively quiet for the class. The standard 16-inch wheels and tires offer the better ride, optional 18-inch wheels and tires provide sharper handling.
Mazda CX-3 is almost alone in this new segment, rivaled only by such diminutive crossovers as the Chevrolet Trax, Buick Encore, and Mini Countryman. But the subcompact crossover market is expected to double in the next couple of years. Already on the way are the Fiat 500X, Honda HR-V, and Jeep Renegade.
Mazda's new Skyactiv-G 2.0-liter four-cylinder engine develops 146 horsepower at 6000 rpm, and 146 pound-feet of torque, mating with a 6-speed automatic transmission. Fuel economy is estimated by the Environmental Protection Agency (EPA) at 29/35 mpg City/Highway with front-drive, or 27/32 mpg City/Highway with all-wheel drive.
Smooth and quiet when cruising, the engine springs to life when needed, delivering brisk acceleration.
All-wheel drive enhances stability in wintry conditions. Front-wheel drive is standard.