2016 Mazda CX-5 Driving Impressions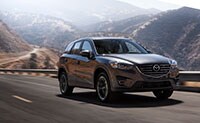 Agile handling makes the Mazda CX-5 fun to drive.
The 2.0-liter engine in the CX-5 Sport provides better acceleration performance than you might expect. The 2.0-liter engine works particularly well for driving briskly along winding roads or cruising on the freeway.
The 2.5-liter engine in CX-5 Touring and Grand Touring models offers stronger performance. Acceleration is frisky from a standstill or for passing maneuvers. Hitting the gas while cruising at 40 mph yields an alert, rapid boost in velocity.
The 6-speed automatic transmission reacts promptly to the driver's wishes and it's smooth, delivering almost imperceptible upshifts and downshifts as load conditions demand. A semi-manual feature allows the driver to change gears but we found it worked best to put it in D and let it do its thing.
CX-5 Sport's manual gearbox is a pleasure to operate with crisp shift gates and positive engagements, arguably the best in this class.
The electric power rack-and-pinion steering system is the best in the class, quick and accurate, precise, intuitive. Few corrections are needed while driving down a bumpy road and we found the CX-5 feels more stable at high speeds than a Honda CR-V does.
Suspension tuning tends toward sporty. Ride quality is firm but compliant, European in character. There is some head toss on bumpy roads, however. The CX-5 felt firmly planted and secure when driving down wet, bumpy, curvy back roads at speed. We didn't sense a big difference between the 17- and 19-inch tires.
We appreciated the grip and sure-footedness of the all-wheel drive while driving through the rain down a winding valley road and while speeding around a wet Mazda Raceway Laguna Seca circuit. If you live in a particularly dry climate, however, you could save a little on the purchase price, get slightly better fuel economy and slightly more lively handling feel with front-wheel drive.