2016 Mazda CX-5 Introduction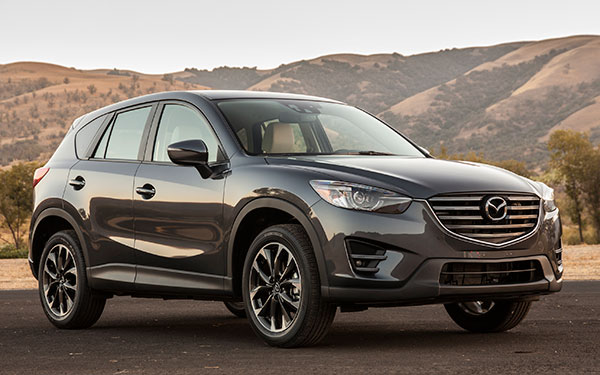 For 2016, Mazda CX-5 gets updated styling and a redesigned interior stuffed with the latest features. The 2016 CX-5 benefits further from a revised suspension along with more sound-deadening measures, all intended to deliver greater ride comfort and a quieter cabin than did the 2015 model. CX-5 was launched as a 2013 model.
Mazda CX-5 is a five-passenger compact crossover utility vehicle in the same class as the Honda CR-V, Ford Escape, Toyota RAV4, Nissan Rogue, Kia Sportage, and Subaru Forester. The CX-5 offers a choice of all-wheel drive or front-wheel-drive.
CX-5 distinguishes itself from the other compact utility vehicles, or CUVs, with its sleek styling, excellent fuel economy and agile handling. It looks great and it's more fun to drive than the CR-V or RAV4.
We found the CX-5 Sport with the 2.0-liter engine delivered respectable performance, though some competitors offered more power. The 2016 Mazda CX-5 Sport rates an EPA-estimated 26/35 miles per gallon City/Highway with manual gearbox and front-wheel drive.
The more powerful 2.5-liter engine makes the CX-5 Touring and Grand Touring models the better performers. With this engine, CX-5 scores an EPA-rated 26/33 mpg with the automatic transmission and front-wheel drive, 24/30 mpg with all-wheel drive.