2016 Mazda CX-5 Walk Around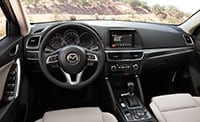 Mazda CX-5 is larger than it looks. Overall length, width, and height are nearly an inch larger than those of the Honda CR-V. However, at 106.3 inches, the CX-5 wheelbase is 3.2 inches longer than that of the CR-V; a longer wheelbase generally equates to improved ride quality and high-speed stability.
For 2016, the grille has been reshaped, the headlights have been slimmed down and connected to the grille with bars of brightwork, and LED lighting is available front and rear.
The styling uses Mazda's KODO design language intended to reflect the grace and power of animals. We think the sculptured lines and pronounced wheel arches do lend a sense of motion and muscularity, especially noticeable in morning and evening light. The body tapers outward toward the bottom, lending a look of stability. CX-5's coefficient of drag is a slippery 0.33.
Interior
Mazda CX-5 seats five adults. The front bucket seats are sportier and more supportive than most in this class. The chunky steering wheel feels good; it's perfectly centered and tilts and telescopes. Forward sightlines are better than most and big mirrors offer a good view rearward.
For 2016, the handbrake has been replaced by a smaller electronic brake switch, allowing more space for the center console. Mazda's latest infotainment setup, Mazda Connect, is included.
It's a simple, straightforward cabin. Interior materials are high quality, with extensive use of soft-touch vinyl and very little hard plastic. Instruments and controls are nicely laid out, well marked, easy to read and use. Cubby storage is decent. Reflections from the center stack are a bit of an issue on sunny days.
Getting in and out of the back seats is easy and it's comfortable for two. The center rear position isn't someplace we'd care to occupy for more than an hour.
The rear seats fold nearly flat, but not completely. Cargo capacity is 34 cubic feet behind the rear seats, which expands to 65 cubic feet with the rear seatbacks all folded forward.