2016 Mazda MX-5 Miata Introduction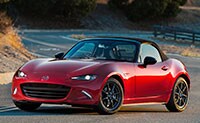 The all-new 2016 Mazda MX-5 Miata represents a return to its roots. Though completely redesigned and reengineered, this fourth-generation Miata is more like the first-generation 1990 roadster than any of the intervening generations.
The 2016 Miata adheres to the same basic concept as the original: a lightweight, rear-wheel-drive, two-seat roadster. And it follows the same mission as before, that of a classic British sports car.
It's fun to drive, easy to toss around, a delight whether charging up a mountain road or cruising along the ocean. It's simple, straightforward and traditional. You can drop the manually operated top while belted in the driver's seat, even while at parking lot speeds. And if a thunderstorm occurs, you can pull it up and latch it just as easily, without getting out of your seat.
The styling of this all-new MX-5 is more contemporary and a bit more aggressive than the previous generation. It is about the same size as before, slightly shorter in overall length at 154 inches and slightly wider at 68 inches. The wheelbase has been stretched to 91.1 inches.