2016 Mercedes-Benz C-Class Driving Impressions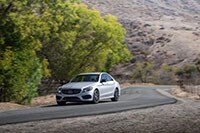 The C-Class performs well. In AMG trim it's outstanding. The ground-up redesign for 2015 gave the C-Class new architecture, with more aluminum, cutting weight by about 200 pounds.
With 0-60 mph acceleration times around 6.5 seconds, the C300 feels energetic, not unlike the compact CLA45 AMG. Turbo boost comes quickly, and the C300 feels impressively strong. Electrically assisted steering is one of the best in any luxury car, with precise variable ratios and accurate, predictable operation. The steering ratio is quick, needing only about 2.2 turns lock-to-lock. Thus, tight maneuvers are easy to indulge.
The C300 comes standard with steel springs. The optional air suspension provides continuously variable damping and can be adjusted through Comfort, Eco, Sport, and Sport Plus modes. The Airmatic suspension yields a smooth, comfortable ride with little body roll.
The C450 AMG Sport has a V6 that feels strong in each of its seven forward gears, and a sport exhaust emits pleasantly muted tones.
For more stimulating performance, the 4.0-liter twin-turbo V8 produces 469 horsepower and 479 pound-feet of torque in the C63 AMG. In the C63 S, it's 503 horsepower and 516 pound-feet. AMG models offer better steering feel, with bigger brakes and adjustable dampers to control ride quality. All-wheel drive and an electronic locking differential are standard. The transmission has five modes, including a manual, rev-matching choice.
Fuel economy is decent for the class. The rear-wheel-drive C300 is EPA-rated at 25/34 mpg City/Highway, while the all-wheel-drive C300 4MATIC drops those figures to 24/31 mpg. The C450 AMG 4MATIC is rated at 21/29 mpg City/Highway. Least thrifty, as expected, are the AMC C63 models, at 18/25 mpg.