2016 Mercedes-Benz C-Class Summary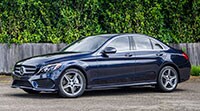 The Mercedes-Benz C-Class occupies BMW 3 Series territory in terms of ride, handling, and performance. The C-Class has a sizable list of standard equipment, but prices approach those of the larger E-Class.
Driving impressions by Marty Padgett, The Car Connection. James M. Flammang contributed to this report.