2016 Mercedes-Benz C-Class Walk Around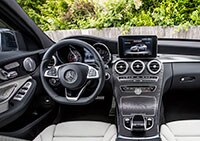 Mercedes-Benz made a clean break with its recent past for the 2015 redesign, more closely linked to the S-Class. Sharp corners and blunted details are mostly history, supplanted by the current slippery shape.
Up front, the upright grille is flanked by intricately detailed headlights, with brows made up of LEDs. Large air intakes punctuate the lower front end. Front fenders are flared, and the rear end has a softer, rounder appearance than in the past. AMG models have their own distinctive touches, including a front bumper with larger-yet air intakes.
Interior
In design, features, and detailing, the cabin reaches new heights of sensual appeal. As part of the recent redesign, the luxurious cabin grew in size.
Spacious front seats promise plenty of leg, head, and shoulder room, as well as excellent support. Extendable bottom-cushion bolsters provide fine mid-back support, too. Even though space for six-footers isn't abundant, they should find adequate comfort.
The dashboard arcs gently around the front seats. At the center stack, there's a glorious waterfall effect in the wood. Depending on model, trim could instead be aluminum or carbon fiber. Passengers can expect a tight, quiet cabin, with wind noise effectively isolated.
Back-seat space is tight. Entry and exit to the back seat are impeded by that relatively low roofline and the door shape. Seatbacks flip forward easily to provide a flat floor.
Trunk space totals just 12.6 cubic feet.
In the new C450 AMG, suede AMG sport seats grip well and reach beyond the usual bolstering, adding power-adjustable headrest height and thigh-cushion extenders. AMG models can get different grades of optional leather, plus a choice of linden wood, piano-black trim, carbon-fiber, or silvered fiberglass.