2016 Mercedes-Benz CLA-Class Driving Impressions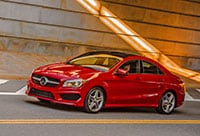 Because the CLA250 is tuned for thrifty fuel economy, it doesn't quite qualify as a sports sedan. That said, its engine yields plenty of power and sounds good under most conditions. Wind and road noise are muted.
The CLA250 transmission tends to upshift rapidly and often. On the highway, downshift requests can take a while to occur. For the best response, skip Eco mode, in favor of Sport or Manual.
Despite being built on a front-drive platform, driving feel is on the neutral side. Compared to larger sedans, which tend to feel heavy, steering is tuned more tightly on the CLA250: quick to respond and providing a well-weighted feel. For best ride quality, skip the optional tires in favor of the standard, taller 17-inch run-flat rubber.
Able to take corners without excessive leaning, the CLA250 differs markedly from typical Mercedes-Benz models, with their compliant suspensions and high-level ride comfort. Steering effort increases while turning, improving responses.
Stop/start technology is standard, but it can emit a bit of a shiver when shutting off the engine, even more so when starting up again. The system sometimes restarts the engine before it's needed, making operation quite noticeable.
Handling is completely different with the CLA45 AMG, which corners flat and suffers much less understeer. On most pavements, the AMG rides no rougher than the CLA250. It's also quiet and sufficiently relaxed for everyday driving. An available AMG sport suspension improves roadholding further yet, without sacrificing ride quality. Also optional is an active-exhaust system.
Fuel economy for the CLA250 is impressive, EPA-estimated at 26/38 mpg City/Highway (30 mpg Combined) with front-drive. All-wheel drive sinks the for the CLA250 estimate to 24/33 mpg City/Highway.