2016 Mercedes-Benz CLA-Class Walk Around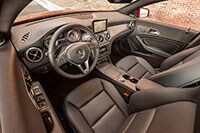 Mercedes-Benz has given its CLA a striking and different four-door coupe appearance. In its mimicking of the curvy CLS, the smaller CLA shifts away from the long-nose profile that has typified Mercedes-Benz sedans.
The arc-shaped silhouette ends in steeply slanted glass at both front and rear. Softly tapered, that rear end features curves stamped into the fenders, along with ribbed LED taillights. Big air intakes and underbody shielding help achieve a surprisingly low coefficient of drag: only 0.23.
Air intakes are larger yet on the high-performance CLA45 AMG, which replaces the CLA250's mesh grille with a simple set of dual bright blades. Ducts at the lower rear hint at the AMG's performance potential.
Interior
The CLA is comfortable for those sitting up front on nicely upholstered seats that provide fine support for longer journeys. Firm bolsters help keep riders in place, installed on both the backrest and the seat cushion. Power adjustments alter the driver's seat for position and rake.
The rear seat is too tight for adults. Think of it as a two-seater with provision to move small kids in a pinch. Small back doors and a low-to-the-ground design add to the challenge, restricting entry/exit. Headroom is skimpy, and foot space scant. So is visibility over the driver's shoulder.
The CLA250 driver will find the shifter behind the steering wheel, but the AMG version gets a conventional lever atop the console.
Interior styling blends elements from Mercedes-Benz sports cars with those found in its larger sedans. Instruments sit at each ends of long tubes that have angled openings. MB-Tex synthetic seat upholstery is standard, with leather optional. Graphics on the dashboard screens are excellent. The cabin has a number of trays and bins for storage.
The CLA45 AMG gets red-stitched seats and red seatbelts.
Trunk space in the CLA is good, despite the tapered back end, and the rear seats fold down.