2016 Mercedes-Benz E-Class Driving Impressions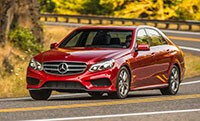 Depending on model, an E-Class might focus on luxury, fuel economy, or performance. With its strong engine torque, the efficient E250 BlueTec diesel sedan is satisfying and engaging, yielding a light, responsive feel most of the time. Smooth power delivery is the byword for the mainstream engine, the 3.5-liter E350 V6. Still, the V6 in E400 models feels markedly stronger than the base V6, with barely a hint of turbo lag.
Stepping up to the E550, its twin-turbo 4.7-liter V8 is a particularly evocative performer, promising 0-60 mph acceleration in 5.2 seconds. Its standard air-spring adaptive suspension delivers an even, still-supple ride. Air springs also go on the E350 wagon.
Equipped with paddle shifters, Mercedes-Benz's 7-speed automatic transmission isn't the most responsive, compared to 8-speed units installed in many current luxury cars. All E-Class cars have electric power steering. The "Direct Steer" system adds some quickness and heft to the steering, so it feels better than most rivals.
Most E-Class models are well-controlled, with agile road manners, though they're less tautly-tuned than sporty Audi or BMW cars. Softly tuned Luxury models suffer ample body lean and can scrub their tires easily. Sport versions are better controlled, thanks to a slightly-lowered suspension and 18-inch wheels.
Simply put, the factory-tuned AMG duo is in a class of its own. For 2016, those E63 AMG models come only in higher-performance S trim, with standard all-wheel drive and 0-60 mph acceleration time near 4 seconds. Expect a rousing exhaust note, but the AMG's adaptive suspension keeps the sedan or wagon well planted on the pavement, with a strong, solid feel.
As for fuel economy, the E250 BlueTec diesel is EPA-rated at 28/42 mpg (City/Highway), or 27/38 mpg with all-wheel drive. Both the E350 and E400 are EPA-rated at 20/29 mpg with rear-drive, while the E550 drops to 17 or 18 mpg in city driving. The E63 AMG sedan is EPA-rated at 15/22 mpg (City/Highway).