2016 Mercedes-Benz E-Class Summary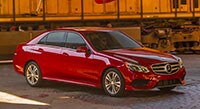 With a dizzying number of models to choose from, E-Class buyers have plenty of flexibility. Despite hefty prices, leather upholstery and a rearview camera aren't standard on lower-level versions, but just about any option can be added if you're willing to pay.
Driving impressions by Kirk Bell, The Car Connection. James M. Flammang contributed to this report.