2016 Mercedes-Benz GLA-Class Driving Impressions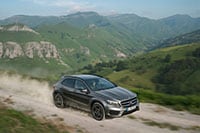 Not every crossover SUV qualifies as fun to drive, but the GLA250 deserves that description. Holding the road more tenaciously than expected, it feels well-balanced in curves and corners.
Behind the wheel, the GLA250 feels much like a car, though it's taller than the CLA250 sedan. Body roll is more evident in hard cornering. New electro-mechanical power steering was designed to meld with intervention from the electronic stability control.
While accelerating, the GLA250 engine responds nicely, though its transmission is programmed to upshift as promptly as possible. On the plus side, those shifts are quick and smooth.
Most of the time, the interior is commendably quiet, though optional low-profile tires on 19-inch wheels can grow noisy on some pavement surfaces. The 18-inch wheels and tires offer the quietest, smoothest ride.
Mercedes-Benz's 4MATIC all-wheel drive is surprisingly capable, whether on snow or dirt or gravel. The 4MATIC models include Downhill Speed Regulation, along with an off-road transmission mode.
The high-performance GLA45 AMG falls into the hot hatch category, despite crossover-SUV pretentions. Practically every internal component has been reinforced and strengthened by AMG. Each engine for the AMG model is assembled by a specific employee, identified by a plaque bearing that person's name. Enthusiasts are enraptured by its raucous exhaust. More important, the GLA45 AMG clings unshakably to the pavement, helped by its low stance and wide 19-inch tires.
Fuel economy is impressive for the category. The GLA250 4MATIC is EPA-rated at 24/32 mpg City/Highway, or 27 mpg Combined. Front-wheel drive raises the estimate to 25/35 mpg City/Highway, or 29 mpg Combined. The GLA45 AMG is EPA-rated at 23/29 mpg City/Highway, or 25 mpg Combined.