2016 Mercedes-Benz GLA-Class Summary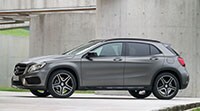 The GLA250 is among the more confined compact crossover models and it adds enticing handling and an element of urban flair. The back seat is snug. The GLA is an entry-level luxury vehicle, but options can escalate the price dramatically.
Driving impressions by John Voelcker, The Car Connection. James M. Flammang contributed to this report.