2016 Mercedes-Benz SLK-Class Driving Impressions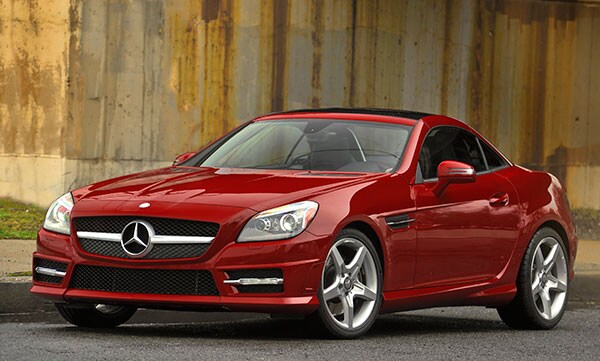 The 2016 SLK300 delivers quicker acceleration performance than did 2016 SLK250. The SLK300 features a new 2.0-liter engine and 9-speed automatic transmission.
The SLK350 with its 302-horsepower V6 earns a solid recommendation, and it comes with a 7-speed automatic. Sport mode yields quick gearchanges, but shifts are drawn-out and syrupy in Eco mode.
The SLK55 AMG features brute-force performance and a wicked, snarly exhaust. The AMG can accelerate to 60 mph in 4.5 seconds. Ride quality is staunchly firm. Responses are quick from the specially tuned, 7-speed AMG Speedshift, which includes big paddle shifters.
SLK uses electro-hydraulic steering coupled with Direct Steer, which amplifies power assist in accord with rotation of the steering wheel. With Direct Steer, you can expect almost an inch of free play at the wheel's center position, meant to yield relaxed highway cruising. Yet, twisting the wheel a mere quarter-turn produces substantial change in direction.
The SLK300 is fuel-efficient but delivers performance is almost as strong as the SLK350.
The SLK350 is EPA-rated at 21/29 mpg.
The SLK55 AMG, not so much, EPA-rated at 19/28 mpg City/Highway despite a cylinder-deactivation system. All SLK models get a Stop/Start feature that automatically turns off the engine when stopping, for example at intersections.