2016 Mercedes-Benz SLK-Class Walk Around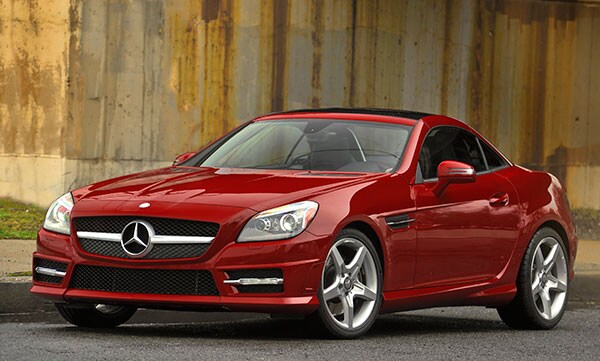 SLK has a twofold purpose: luxury and performance. Visually, it looks ready to provide both. The SLK bears a resemblance to the larger SL-Class.
With a wheelbase shorter than 96 inches, measuring 163 inches overall, the SLK is one short vehicle. A tall, sizable front end blends into a softer, more conservative rear section. Roughly bubble-profiled, the roof tapers back toward teardrop-style taillamps. Some details were adapted from the striking SLS AMG gullwing model. Designers earn kudos for injecting more than a touch of elegance into a short-wheelbase roadster.
The high-performance SLK55 AMG takes the basic shape and gives it a more boisterous presence.
Interior
Inside, the SLK looks ready for a major overhaul. Curves are mostly absent, resulting in a more upright and squared-off look. Real buttons and switches are used, but an LCD screen presents audio displays. Models with the COMAND system include a control knob. Analog instruments sit within metallic tubes, and the driver faces a flat-bottomed steering wheel.
Even long-legged passengers can find comfort in an SLK, despite its relatively snug cockpit. Footwells are large enough, but seats are mounted rather close to the dashboard.
With the top up, the cabin feels tight and free of drafts. Highway driving can get turbulent with the top down, though a mesh divider between the seats helps calm things down.
Cargo volume totals 10.1 cubic feet with the roof up, but only 6.4 when it's down. Still, that's sufficient for a weekend getaway.
With the top up, an SLK feels a lot more coupe-like; imparting more of a closed-in sensation. Outward visibility can be impaired, however, and a rearview camera isn't available. We recommend the photochromic Magic Sky Control roof, which can tint its glass panel from almost opaque to fully transparent.