2016 Mini Countryman Driving Impressions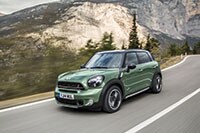 A Toyota Prius is faster than the base MINI Cooper Countryman. If you're at a freeway on-ramp regulated by a light at rush hour, and the guy next to you gets a good start those couple seconds after you, you'll probably get in his way. Ten seconds is a long time to reach 60 miles per hour from a standing start.
The 3000 pounds isn't that heavy for a small crossover, but not a lot of power here. The electric power steering gives good feedback, and the brakes good pedal feel.
The MINI Cooper S Countryman, with its turbocharger adding another 60 horsepower and cutting 2.5 seconds off that zero-to-sixty time. Now we're talking. The John Cooper Works model adds another 30 horsepower, but only cuts about half a second off that acceleration time. So, bang for the buck, it's the MINI Cooper S model, with the 6-speed manual gearbox. The Sport mode with the 6-speed automatic sharpens the shifts, but it can't sharpen them enough, because nothing can afford to be lost to quickness.
The ALL4 all-wheel drive system might be capable of going off road, but it's not meant to make the MINI a rugged crossover, so don't plan on taking it elk hunting (take the Jeep Renegade, on the Fiat 500 underpinnings). ALL4 just improves traction and safety on gravel roads or in snow or rain. The traction is divided 50-50 front-rear on dry roads, and, using an electronic limited-slip differential, moves up to 100 percent to the rear as the front wheels slip.