2016 Mini Countryman Introduction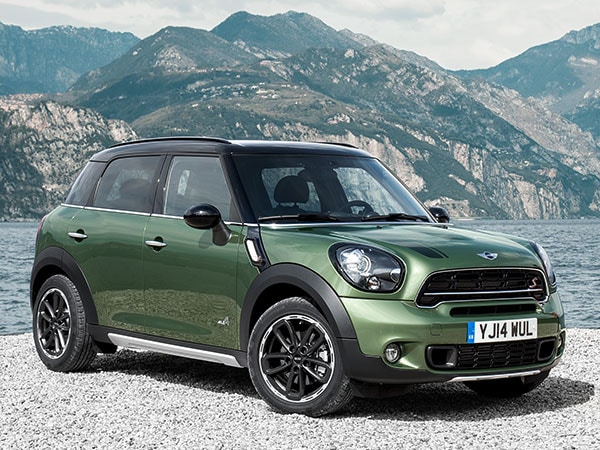 We sometimes have a problem keeping our MINI Coopers straight. There is the regular little MINI Cooper that's 150 inches long, except for the four-door that's 156 inches long, which is the same length as the Clubman that's more like a little wagon with its back barn doors, except the real wagon with a liftgate is the Countryman that's 161 inches long, and right straight we have arrived at the subject of this review.
The Countryman came along for 2011 and got a new grille, LED foglamps, and a bit more chrome for 2015, but otherwise it hasn't changed. It's the only MINI Cooper with all-wheel drive, called ALL4, available in each of three models. So it's not really a wagon, it's more of a sub-compact crossover utility vehicle, at least the ALL4 models. It's virtually a genre unto itself. You could cross-shop a Chevy Trax, or even a Honda Fit, but not really.
Countryman comes standard with a 1.6-liter four-cylinder engine making 121 horsepower; the MINI Cooper S Countryman uses the same engine turbocharged to make 181 horsepower; and the John Cooper Works model wrings 211 horsepower out of that tidy little powerplant. The standard transmission is a fun 6-speed manual, with a 6-speed automatic available.
The manual transmission allows better fuel mileage than the automatic, an unusual thing nowadays that usually means the automatic isn't as efficient as it could be. The base Countryman gets an EPA-rated 27/32/29 mpg City/Highway/Combined, while the MINI Cooper S with all-wheel drive gets 23/30/26 mpg. Could be better. Not only that, Premium fuel is required.
MINI Countryman earns a Top Safety Pick rating from the IIHS, the Insurance Institute for Highway Safety, including the best score in the new small-overlap front collision. The National Highway Traffic Safety Administration (NHTSA) hasn't tested the Countryman, because relatively few are sold.