2016 Mini Hardtop Driving Impressions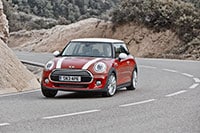 The turbocharged three-cylinder 1.5-liter engine in the base MINI Cooper uses its strong torque, with virtually no turbo lag, to deliver responsive acceleration from low speeds, so it's especially good around town. The 2.0-liter engine in the MINI Cooper S shows more spunk on paper, but to the seat of our pants there isn't that much difference, maybe because the exhaust note is so much fun in the three. It's also lighter and better balanced, making it more nimble, so to our own surprise, the smaller engine would be our choice.
The 2.0-liter MINI Cooper S makes 189 horsepower and 206 pound-feet of torque (221 lb-ft with the overboost), and accelerates to 60 mph in 6.3 seconds compared to the 1.5-liter's 7.3 seconds, a substantial difference in performance.
You get the same choice of transmission with either engine, and we already said we'd choose the sharp 6-speed manual, although with the 6-speed automatic you can get optional paddle shifters and do your own shifting. But not always, if you get the optional navigation, because it has a feature that changes gears based on its satellite reading of the upcoming terrain.
There are three available driving modes, called Sport, Mid, or Green, indicated to the driver with a red, blue or green ring around the center display screen. Sport mode does upshifts later (with the automatic), and also tightens the steering.
The MINI Cooper is known for its cornering, more or less true to the cliché, like a go-cart, helped by sticky tires. However, what you get with that is twitchiness, when it's being pushed along bumpy roads. But its electric power steering is about as good as we've ever driven, and the ride has evolved to the point where it can be called reasonably comfortable while still being firm. And if you want it to be firmer and less twitchy, spend extra for adaptive dampers, which along with other suspension upgrades, make it difficult to upset the MINI Cooper's composure on any road.