2016 Mini Hardtop Introduction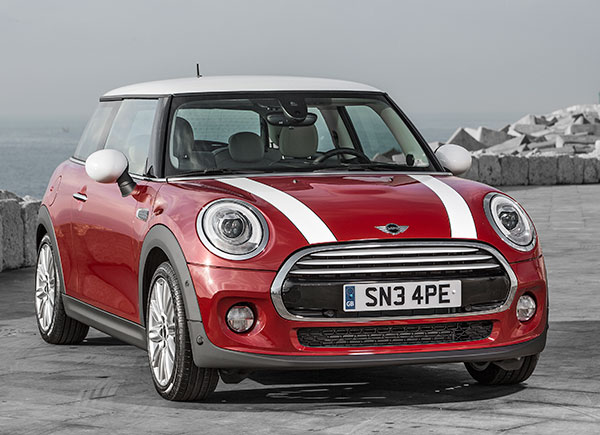 The reborn MINI Cooper has been around for 14 years now, and the 2016 MINI Cooper is in the third year of its third generation, having been introduced for the 2014 model year. In case you haven't been keeping track, there are or soon will be 10 versions, including a Hardtop 2-Door (sometimes referred to as the hatch or three-door hatchback), Hardtop 4-Door (longer five-door hatchback), Clubman (rear barn doors), and Convertible. And that's not counting S and JCW versions separately. For 2016, the Coupe and Roadster models have been discontinued.
The front-wheel-drive MINI has grown in size and changed some over the years, but its cute looks, cheeky character, go-kart handling and BMW build endure. There are fewer flaws and compromises today, and it's quieter and more comfortable, but that should be expected from any car over 12 years. However it might be suggested that so-called flaws can be considered character, coming from lack of compromise.
There are two basic engines, designed and shared by BMW, both with variable valve timing. The base engine is a small three-cylinder, a direct-injected and turbocharged 1.5-liter making 124 horsepower; it arrived with this generation, and makes as much power as the earlier four-cylinder did, while getting better fuel mileage. Even with just three cylinders, it's no slouch, with 162 pound-feet of torque as well as an overboost capability that can deliver another 7 pound-feet in bursts. It zips from zero to 60 miles an hour in 7.3 seconds, and can reach 130 mph.
The MINI Cooper S uses a 189-horsepower 2.0-liter four-cylinder, also with direct injection and turbocharging.
A 6-speed manual or 6-speed automatic transmission is available with either engine. We like the crisp manual gearbox, as it better suits the personality of the car.
The 6-speed manual also gets better fuel mileage, at least with the 1.5-liter engine: an EPA-estimated 27/37 mpg City/Highway for 33 mpg Combined, versus the automatic's 31 mpg Combined. With the 2.0-liter engine, the manual gearbox gets 2 mpg less, at 24/34 mpg City/Highway, 27 mpg Combined, versus 26/33/29 mpg with the automatic. Both engines demand Premium gasoline, because of their high compression.
Stop/Start technology comes standard, fairly smooth in the 1.5-liter but jarring with the S. There's a Green mode for better fuel mileage and less power.
Eight airbags are standard, along with a suite of safety systems, and an option for corner braking that uses sensors that feel the car's cornering attitude to brake the four wheels individually, optimizing grip at each wheel. IIHS gives the MINI Cooper the top rating in every test, including the tough new small-overlap test, where the car is crashed at 40 mph into the edge of a wall.