2016 Mini Hardtop Walk Around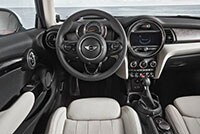 The redesign for 2014 was substantial, but it isn't easy to notice because the visual character was so well retained, especially the long roof, vertical windscreen and rectangular side glass. Only when you park a previous MINI beside this late model do you see how much longer the hood is. It was done to create a stronger shell and better crash structure.
The traditional MINI face remains, flashing big oval headlamps at the tops of the fenders, and a wide-mouthed oval-ish grille that's oversized and overstated but not too big for the car's britches. The beltline is uncompromisingly horizontal, black pillars supporting a flat roof that's available in white, a popular choice. The tail end also says MINI, unmistakable for any other hatchback, with big taillamps that are almost square.
Interior
The cabin is a friendly place. The standard leather sport seats are very comfortable, the ergonomics of the driving position excellent, and it's quiet. There's nice leather trim as well, and quality black plastic that's soft to the touch. The layout of the controls and switches is logical. There's enough shoulder room in the rear for adult passengers, who sit deep in their space.
The MINI used to be notorious for the big speedo in the center of the dash and a big tach on the steering column, but now they're located in the universal position on the dashboard–still a big tach, with a smaller speedo attached. There remains a big round display in the center of the dash, but it's for gauges that don't require constant glancing like a speedo does. The HVAC is handled by three rotating knobs above a row of switches in the center of the dash, with rectangular air vents near them and two big eyeball vents at the far reaches of the dash.
The Clubman was conceived so the MINI could carry passengers in comfort, as well as packages or dogs in back through the barn doors, and it succeeds fairly well. Its wheelbase is stretched by four inches, which goes to the rear seat. It doesn't handle like the short-wheelbase regular MINI, but it does ride a bit better.