2016 Nissan Altima Introduction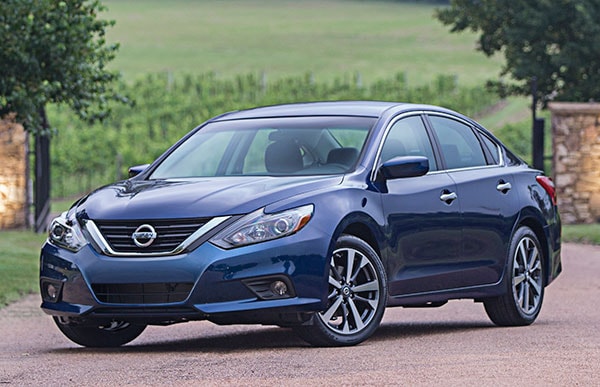 The 2016 Nissan Altima lineup features revised styling inside and out, retuned suspension and steering, and updated technology. Also, a sporty new Altima SR model joins the lineup for 2016.
Altima is a midsize sedan that competes with Honda Accord, Toyota Camry, Ford Fusion, Chevrolet Malibu, and other midsize sedans. It's more affordable but less interesting than the sportier, more luxurious Nissan Maxima.
Last redesigned for 2013, the Altima has been extensively updated for 2016. Buyers can choose between a 2.5-liter four-cylinder engine that delivers excellent fuel economy and a proven, powerful 3.5-liter V6.
Restyled front and rear, the 2016 Altima embraces Nissan's latest design theme, called Energetic Flow, to complement the Maxima and Murano. Likewise, the interior has been updated to echo the themes of those two models, bringing a little more pizazz to the Altima cabin.
A slew of safety features is available for the 2016 Altima. Among them: Predictive Forward Collision Warning and Forward Emergency Braking, Intelligent Cruise Control, Blind Spot Warning, and Rear Cross Traffic Alert.
The 2.5-liter four-cylinder engine is rated at 182 horsepower and comes with Nissan's Xtronic continuously variable transmission (CVT). Fuel economy is an EPA-estimated 27/39 mpg City/Highway.
The 3.5-liter V6 produces 270 horsepower and 258 foot-pounds of torque. Fuel economy is rated 22/32 mpg City/Highway. Its CVT includes paddle shifters and a manual mode that simulates gear ratios.
The electro-hydraulic steering has been reprogrammed for better response and feel for 2016. We found it steers nicely and had no issues with it. Nissan has also switched shock absorbers, springs, and tires for 2016 with the goal of more dynamic handling. The 2016 Altima SL we drove was comfortable, with a nice ride for highway commuting and running errands, but there is nothing sporty about it.
The sporty 2016 Altima SR brings a bit more sportiness to the equation. Available with either engine, the new Altima SR has stiffer dampers and thicker stabilizer bars. The Altima SR handles with authority and it leans less in turns than the standard Altima models.
Altima's front seats promise long-lasting comfort and we found them relatively soft. Fold-down rear seats are split 60/40. Additional acoustic glass and sound-deadening material have been added to quiet the cabin, and we did find it to be a quiet, serene place to sit while rolling down the highway.
On the infotainment front, the Altima moves ahead with new audio features connected to Bluetooth, which now is standard. Included are audio streaming and text-to-voice translation, using a 5-inch color display. A 7-inch touchscreen goes into models with navigation and real-time traffic data.
The National Highway Traffic Safety Administration gave the 2015 Altima a five-star overall rating. The Insurance Institute for Highway Safety gives the 2016 Altima Good marks in each test, with Top Safety Pick+ honors.