2016 Nissan Altima Summary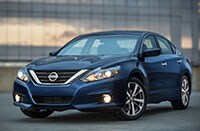 Nissan Altima is a comfortable, smooth-riding car, good for commuting. Altima comes nicely equipped and appears to represent a good value. Nissan has long been a leader in CVT technology and the Altima's transmission works so well that we rarely think about it.
Driving impressions by The Car Connection. James M. Flammang contributed to this report. NCTD editor Mitch McCullough reported on the Altima SL.