2016 Nissan Frontier Walk Around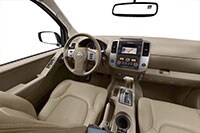 Nissan designers did a good job, long ago, with the Frontier. It has a timelessness to its pickup truck shape, buff and brawny with swelling fenders, even as a mere midsize, so it doesn't look too dated when compared to its shiny new competitors, especially the square-jawed Canyon. It's timeless because it's about function. The grille, however, looks like an afterthought.
Interior
The cabin is simple and clean but feels old, lacking the charm and warmth of the GMC Canyon and Chevrolet Colorado. Compared to other trucks, it feels less substantial and shows its years in its hard plastic.