2016 Nissan Juke Driving Impressions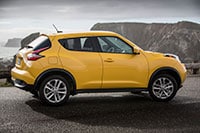 The cabin is somewhat noisy, and the ride is firm, so you have to have a sports car frame of mind with the Juke. If it looks playful and menacing, sometimes it performs like that. It's not exactly refined or mature. It's quick and rough.
The 188-horsepower 1.6-liter four-cylinder engine is turbocharged and direct-injected, with 177 pound-feet of torque, but it's maybe not as quick as it sounds. It can do zero to sixty in seven seconds, but it can still feel slow to accelerate in traffic, especially with the CVT. There might be times when you want more horsepower.
The Juke SV and SL models come with driving modes. On the freeway, it's hard to drive smoothly in Eco, because it's so slow you have to floor it to keep up with traffic. Normal seems a workable compromise, while in Sport you can feel the quicker throttle response and sharper steering.
The seating position is nice and high, but the center of gravity isn't; balance-wise, it's not your regular crossover. The steering is quick, responsive, and well-weighted, with feedback on the level of a sports car. But the suspension combines rigidity with long travel, so the Juke bounces and bounds, and doesn't like rough roads. So the all-wheel drive isn't about trail riding.
The all-wheel-drive rear suspension is independent, compared to the front-wheel drive's torsion beam. When you push the Juke like a sports car, the CVT just drags it down, at the least by shifting on its own at all the wrong times for spirited driving.
If you need more speed, there is the Juke Nismo RS with 215 horsepower and 210 pound-feet of torque. It has the six-speed manual transmission, strengthened with more synchros for hard downshifts, and a limited-slip differential, to resist torque steer. It looks good in black, with red mirrors and a thin red trim line on the fascia and sills. It also has Recaro seats, along with tweaks to the suspension, aerodynamics, exhaust, and brakes with bigger front rotors.
The regular Nismo comes with the 6-speed gearbox with front-wheel drive, or CVT with all-wheel drive, and uses the same 188-horsepower version of the engine. But there are still nearly 100 revised components, including the same alloy wheels and aero parts as on the Nismo R.