2016 Nissan Juke Introduction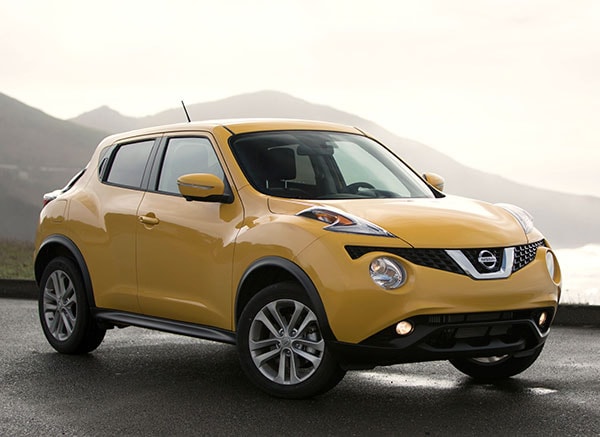 The subcompact Nissan Juke is a sporty small car that tells people you stand out from the crowd. It's an outsider among small crossovers, with different priorities; in other words quirky. It was 2014 Car of the Year in Latvia, how's that for quirky?
Other crossovers like the Honda HR-V, Chevrolet Trax, Fiat 500X, Jeep Renegade, and Mazda CX-3 are mainstream. But the Juke sells well with its attitude. Its competition might be seen more in the three-door Hyundai Veloster, or even the Kia Soul. Or if you want a Mazda MX-5 but need a hatchback, you might look at a Juke.
The Juke is a genre-bender. Nissan calls it a bold urban sport cross. It does mix city crossover with adventure, performance, and out-there design. The cabin is small and the ride stiff, like a sports car.
The base engine is a 188-horsepower 1.6-liter turbocharged four-cylinder, with a continuously variable (CVT) transmission standard, and 6-speed manual available.
Juke is front-wheel drive with available all-wheel drive, not to make it an offroad vehicle but to give it better handling and traction onroad. But all-wheel drive means you can drive it on the beach or in snow, for sports or camping.
Then there's the Nismo RS with 215 horsepower, a formidable contender in the hot hatch field.
All models past the base Juke S come standard with driving modes, Nissan's I-CON control system. The driver selects the steering, throttle and transmission response, its level of aggression. Economy or performance, driver choice.
At full-on economy, the Juke gets 28/32 miles per gallon City/Highway, and 30 mpg Combined with front-wheel drive. Interestingly, the 6-speed manual gets 34 mpg Highway, metal gears gripping, not belts slipping. Subtract 2 mpg for all-wheel drive, but it's worth it, unless you live in the South and just drive back and forth to work.
The Juke doesn't score so well in the small front overlap test, so don't hit a telephone pole. The IIHS gives the Juke top Good ratings in every test except that one, where it got the worst rating of Poor. If you're going to crash a Juke, it's best to be T-boned; the NHTSA gave Juke five stars for side-impact crashworthiness. Down to three stars in the frontal crash test, and four stars for rollover resistance.
For 2016, Juke gets available Siri Eyes Free control of iPhones.