2016 Nissan Juke Walk Around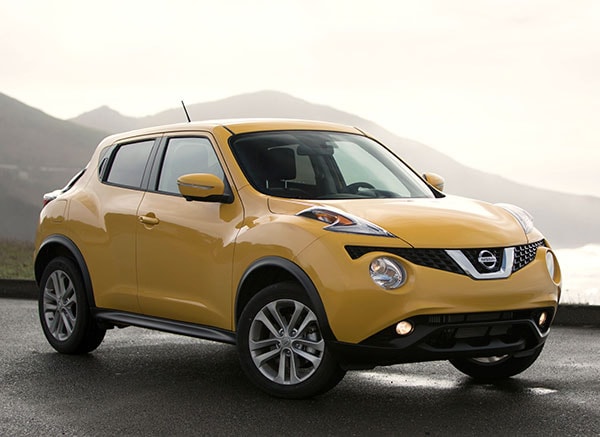 The Juke looks futuristic, and we know we're saying that about a car that's been around since 2011. It looks like a coupe from some angles, with its slanted roof and hidden rear door handles. From other angles it looks like a rally car.
It's about hips, bulges and swells, swoops and angles. Front fenders are tall and lights low, including blade-like turn signals. It's bug-faced. The grille looks predatory. It looks playful and menacing at the same time.
Nissan makes it easy to customize the Juke, with a Juke Color Studio program. Choose outstanding bright colors for the wheels, spoiler, sills, fascia, door handles and headlamp trim. Don't choose too many.
Interior
The gauges are inspired by motorcycle design, which you can see if you try real hard and have a great imagination; in any event, they're clean. You can get the metal dashboard in a color, it looks way cool in anodyzed red, and makes the Juke feel racy, especially since the switchgear is straightforward. The nylon upholstery can also be chosen in colors, but be careful, it can take things over the top toward tawdry.
All but the S model have a touchscreen, where the i-CON driving system is programmed. Climate controls are done there too. The plastics and buttons are inexpensive, but they fit well and are positioned well, so we'll take it.
If the Juke is a crossover, its interior space is lacking. If it's a small hot hatch, its interior space is impressive. Don't be thinking it's a Honda Fit, or even a Nissan Versa.
It's a tight fit, front and especially rear, where there are technically three seats but we're talking three three-year-olds; we squeezed two six-foot adults back there, and they were not happy. The front seats are fairly upright, nudging the driver into a sporty mood. There isn't much cargo space. Technically the Juke is a crossover, but cargo-wise it's basically a hatchback. Keep the back seats folded down, and you've got 35.9 cubic feet; plus, with no worries about rear passenger headroom, you can get a sunroof. With the seats up, there's a slim 10.5 cubic feet.